OHNZ - Professional Four Wheel Drive (4WD) Off Road and Off Highway Training based in Wellington and Lower Hutt, New Zealand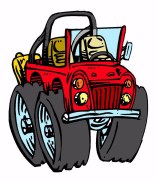 Before you head for the hills, perhaps you might want to consider just how well prepared you are to face whatever New Zealand tracks, trails, forests, streams, rivers and beaches can throw at you

Our Mission is to:


Provide comprehensive 4WD driver training from beginners to advanced.


Provide driver assessment against NZQA Unit Standards.


Remain cognitive of the potential and actual risks of 4WD activities and promote safety aspects in our courses


Promote NZQA Unit Standards as a minimum requirement for all drivers of 4wd vehicles


Be sensitive to cultural differences and differing learning Requirements of ethnic groups


Continually promote safe driving


Support the Tread Lightly! Principles throughout all our activities

OHNZ is bound to have some courses that'll be absolutely invaluable to you no matter what your level of expertise.

All our training is geared around the New Zealand Qualifications Authority (NZQA) framework, but sitting the various assessments is up to you.

Whether you're a full-time outdoor worker using your 4WD as part of your occupation, or a weekend adventurer, OHNZ has something for you.

Give Andi on 027 204 1878 to discuss your personal requirements.